Qualified Service Providers Membership
We have been working in the trucking sector for over a decade, so we know how essential it is to stay connected with today's industry leaders. Our network of preferred partners is beneficial to all trucking businesses, and connecting with these professionals is an asset to any operation. Our track record speaks for itself: we have 10k+ preferred members in our community, which gives trucking professionals immediate access to technicians and mechanics throughout the U.S. and Canada.
We have carefully developed this network of experts to provide our members with convenient options. Our community has local experts throughout North America that provide roadside assistance, repairs, and more to our members. As a result, our network saves on service costs and can access help 24/7, no matter the situation. Also, since we have tire bank locations all across Canada and the U.S., our members benefit from savings for products.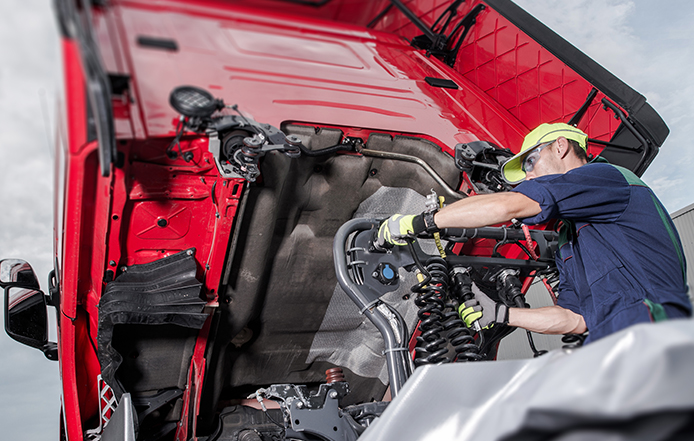 When you join Truckers Assist's Service Providers membership, you can rest assured that you will be looked after by North America's premier provider of emergency roadside assistance for the logistics, intermodal, and transportation industries. You will also have the support of our expansive network and community members. Our online directory allows you to find qualified service providers whenever you need them – your registration with us enables you to request drivers/dispatchers for any service type at all hours of the day.
As a Truckers Assist member, you have access to the following services at a discounted rate:
Truck repair
Trailer repair
Tire repair
Heavy-duty towing and recovery
… and more!.

Guaranteed to be Ranked in the #1 Spot for search results with 20miles of your location on our website, mobile app and call center – maximizing your opportunity to be contacted 1st for breakdowns needs in your service area

The ranking is for every service you provide (truck repair, trailer repair, tire service, towing etc) and not based on each category of service – Truckers Assist promotes all your services to the industry

Truckers Assist promotes your business further by providing a full detailed Business Profile for interested companies to review and validate the authenticity of you and your company

The Premium Membership allows you to promote your rates and offer promotions throughout the year thus driving more traffic to your doorstep

The Premium Membership allow you to validate to the industry that you are insured and and further promote any and all of the certifications you may have (HAZMAT, ASE Certified, TIA, etc)

The Premium Membership further promotes you and your business by allowing you to post a video online for all companies to explore and learn more about why they should choose you to service their fleet needs

All the marketing around our Premium Membership is not image based – this means that the text becomes recognizable by search engines thereby further promoting your rankings when drivers are searching for service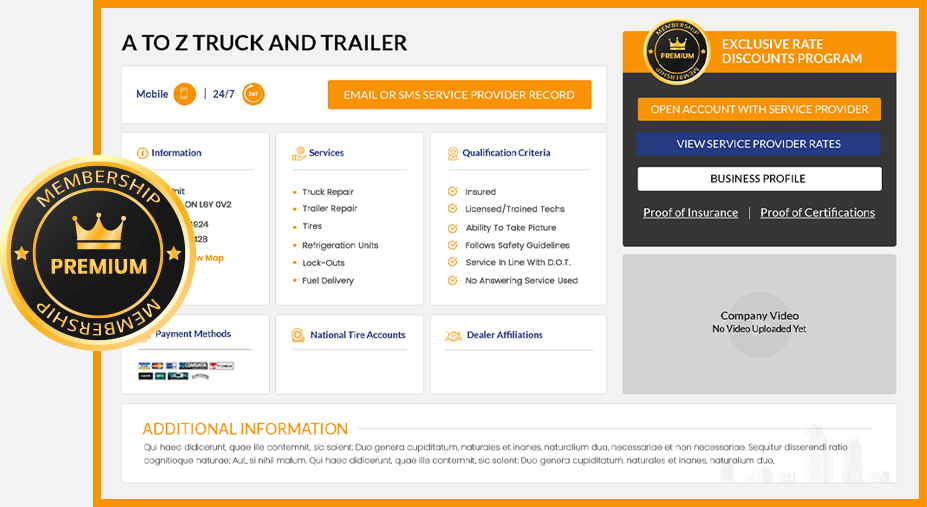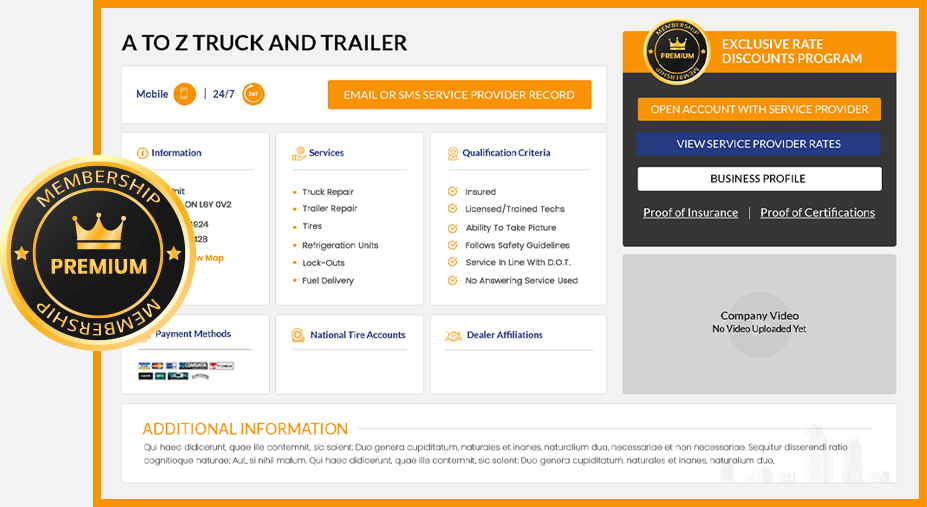 Truckers Assist Premium membership is unparallel in all the features it provides for our Qualified Service Providers. We understand the importance of each and every call that comes your way and how it contributes to your overall profitability. Service Providers that are already running at full capacity can also take advantage of our Premium Membership as it accounted for their ability to expand their business and boost sales at times when they may experience lower breakdown inquiries.
Becoming a Premium Vendor with Truckers Assist allows you, the vendor, to focus on your core business rather than worrying about monitoring your account every hour to see if anyone has outbid your listing for the day. Instead, as a Premium Listing, your services are guaranteed to appear first when the dispatch location is within 20 miles. That way, the local service requests come to you. Further, the Premium Membership is guaranteed to remain yours for the life of your membership with Truckers Assist even when you experience unprecedented growth in inquiries coming your way.
What the Premium Membership Does for Your Business
Truckers Assist is North America's provider of emergency roadside assistance to logistics industry. The Premium Membership was created to allow Qualified Service Providers the opportunity to receive all breakdown inquiries made in their service area 1st!
How is the Premium Membership Different
Once you have been qualified by Truckers Assist and meet all the criteria of becoming a vendor in our network, the Premium Membership will allow you the opportunity to have your business ranked in the #1 for breakdown inquiries within 20 miles of your location. In addition, the Premium Membership is offered on a first come basis so once you take that spot it remains your every year without the worry of another vendor outbidding your spot – you focus on your core business which is servicing breakdowns and we will focus on generating you the visibility you need
Why Should You Choose the Premium Membership
Truckers Assist invests heavily in marketing initiatives and account acquisitions to ensure we are always driving breakdown inquiries to us first. Given we receive thousands of inquires monthly whether it's on our website, mobile app or call center, our goal is to ensure that when a breakdown occurs within your service area and you are our Premium Vendor that we position your company to receive that lead first – that's our promise to you and our commitment to your business growth.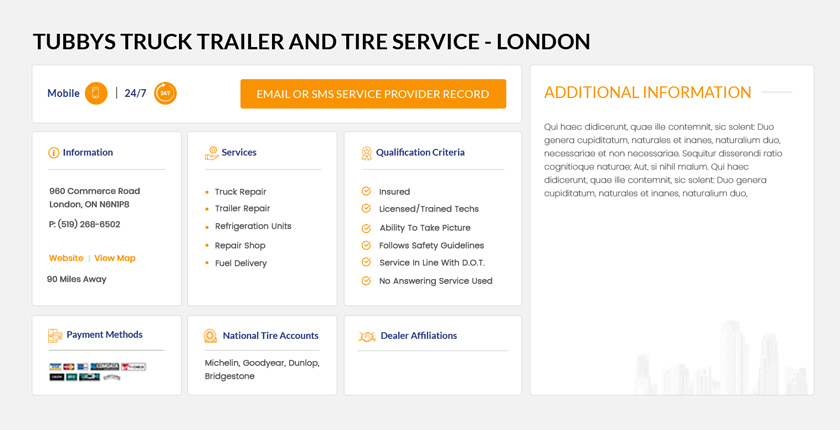 By joining Truckers Assist, your services become readily available to a network of fleets in need of your assistance. Instead of checking scanners, or responding to virtual service requests, we facilitate the inquiries while your mechanics increase their business reach.With the Standard Listing, you get the benefits of having your company ranked in the Top Spots for any breakdowns occurring within 20 miles of your location thereby maximizing your visibility in receiving more inquiries. Since we are not your traditional advertising medium, you'll never have to worry about appearing 10th on a list of possible vendors as we prioritize all our service providers gaining more visibility for your business and receiving those calls first.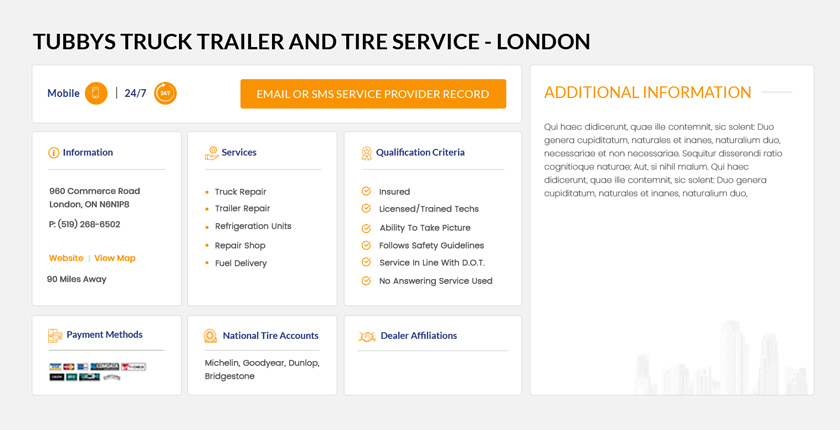 Features and Benefits
Qualification Criteria Listing

Dealer Affiliations Listing

First Priority in Search Results

Ability to Upload Proof of Insurance

Ability to Upload Proof of Certifications

Ability to Show Vendor Pricing Directly